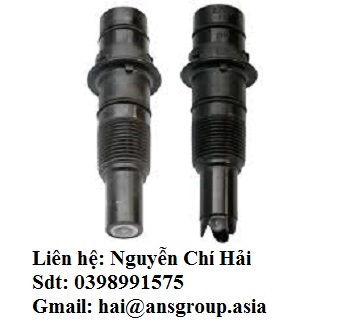 3-2724-00 159001545 pH/ORP Electrodes GF Vietnam, 3-2724-00 pH/ORP GF Vietnam, 3-2724-00 GF, Đại lý GF Vietnam
Xuất sứ: USA
Nhà cung cấp: Anh Nghi Sơn – ANS VietNam
Hãng sản xuất: GF Vietnam
Liên hệ tư vấn

Mr Hải

hai@ansgroup.asia

01698.991.575

live:hai_502
3-2724-00 159001545 pH/ORP Electrodes GF Vietnam, 3-2724-00 pH/ORP GF Vietnam, 3-2724-00 GF, Đại lý GF Vietnam.
GF Vietnam. Nhà cung cấp Anh Nghi Sơn - ANS Viet Nam.
Cung cấp tất cả máy móc, thiết bị của GF Vietnam.
The Signet 2724-2726 pH and ORP Electrodes features a patented reference electrode design and uses the unique foul-proof patented DryLoc® connector. The large area PE reference junction and pathway is constructed to increase the total reference effectiveness and ensures long service life.
The DryLoc connector with corrosion resistant gold plated contacts readily connects the sensor to the mating 2760 preamplifier or the 2750 sensor electronics. The robust Ryton® threaded sensor body and choice of flat pH, bulb pH, or flat ORP sensing elements provides broad range of chemical compatibility for a wide variety of applications.

There are two optional sensing versions, HF and LC, available. The quick temperature response is available in either a PT1000 or 3 KΩ temperature sensor and allows compatibility with all Signet pH/ORP instruments. The 2724-2726 electrodes are general-purpose sensors ideal for a wide range of applications. The sensors incorporate ¾" NPT or ISO 7-1 R¾ threads for installing into standard pipe-tees. They can also be mounted directly into Signet standard fittings.
pH/ORP:
Wetted Materials: Ryton, UHMW polyethylene, FKM, glass
Connection: Durable DryLoc® with gold plated connections
Compatible Preamp/Sensor Electronics: 2750 and 2760
Compatible Instruments: Use the 2760 preamplifier with the Signet 8750; Use the 2750 sensor electronics with the Signet 8900, 9900 or 9950 instruments
Additional Features: HF and LC options available
In-line Mounting styles: Standard 3/4 inch or ISO threaded fittings
Submersible mounting: Available using the back of the preamplifier or sensor electronics
Applications: Water treatment, water quality monitoring, etc.
Liên hệ: Nguyễn Chí Hải
Sdt: 0398991575
Gmail: hai@ansgroup.asia