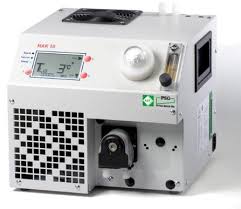 Compact Gas Conditioning MAK10-2202-4-00-F AGT-PSG, AGT-PSG Đại Lý Việt Nam
Model: MAK10-2202-4-00-F
Xuất sứ: Korea
Nhà cung cấp: Anh Nghi Sơn – ANS VietNam
Hãng sản xuất: AGT-PSG
Liên hệ tư vấn
Compact Gas Conditioning MAK10-2202-4-00-F AGT-PSG, AGT-PSG Đại Lý Việt Nam.
AGT-PSG Vietnam​. Nhà cung cấp Anh Nghi Sơn - ANS Viet Nam.
Cung cấp tất cả máy móc, thiết bị của AGT-PSG.
Application The compact gas conditioning systems series MAK10 are used for continuous extractive gas analysis. They serve primarily for exact constant lowering of the sample gas dew point and thus for drying of the humid sample gas flow. In this way water vapour cross sensitivities and volumetric errors are minimized and damages of the sensible analyzer are avoided. With optional components like condensate pumps, preseparators, filters, liquid sensors, flow meters and sample gas pumps devices of series MAK10 can be upgraded to complete compact quick and simple integrable conditioning systems. The flexible modular design guarantees an optimum adaption to every measuring task.
Technology The precise proportional temperature control in combination with the long-lasting hot-gas bypass system and the innovative corrosion resistant heat exchangers achieves low extremely constant dew points. Also load fluctuations and high thermal stress is compensated reliably. The hydrophobic corrosion resistant PTFE coating and the very short retention time in the heat exchanger ensure a lowest possible gas dissolution rate.
Functions An electronic system controls dew point and cooling air temperature. Potential free alarm contacts allow remote monitoring of the device. Die Betriebsparameter werden zur Diagnose in einem Logbuch gespeichert. An operation hours counter controls the service intervals. Available housing versions are wall mounting housing, 19"-rack housing and mobile versions with carrying handles.
Liên hệ: Nguyễn Chí Hải
Sdt: 0398991575
Gmail: hai@ansgroup.asia