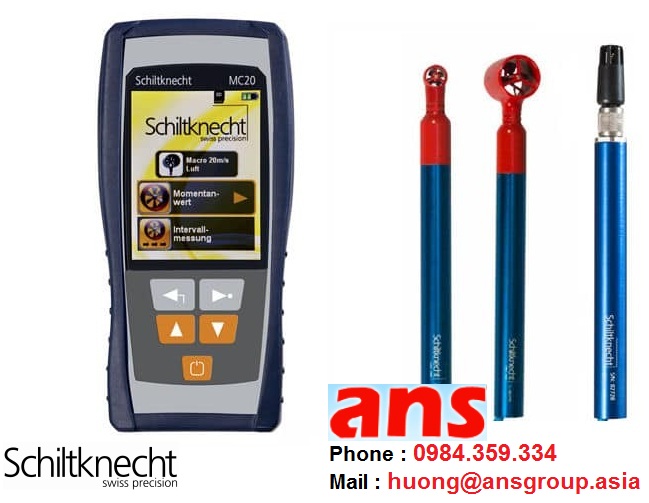 MiniController Flowprobe Máy đo lưu tốc dòng chảy Vane anemometer Hygrometer Thermometer
Xuất sứ: Switzerland
Nhà cung cấp: Schiltknecht
Hãng sản xuất: Schiltknecht Vietnam
Liên hệ tư vấn

Mr Hương

huong@ansgroup.asia

0984.359.334

live:huong_237
Đại lý phân phối chính thức Hãng Schiltknecht tại Việt Nam - Schiltknecht Vietnam - ANS Vietnam - Đại lý Schiltknecht Vietnam, SCHILTKNECHT Vietnam
The hand-held MiniWater®20 is a:
Turbine velocity meter for surface water
Hygrometer
Thermometer
The MiniWater®20 hand-held measuring instrument with the MC20 operating and display unit serves to measure the flow velocity of surface waters such as rivers, lakes, canals, etc.
Ergonomic user guidance and local data storage allow versatile application of the unit. The MC20 microcontroller is used as an operating and display unit which the MiniWater®20 measuring sensor recognises automatically when it is plugged in and converts the rotation frequency of the measuring turbine into the m/s unit of measure.
List Code :
Schiltknecht Vietnam
Type:

a.640.mc20

MiniController MC20 for MiniAir20
Schiltknecht Vietnam
Type:

f.641.20.20

Flowprobe MiniAir20 Micro 20 m/s
Plastic/Aluminum, 140 °C, Cable 1.8 m
Schiltknecht Vietnam
Type: f.717.mc20
Humidity-/ temperature probe HygroAir20
Range 0 - 99 % rF, -20 bis 70°C,
Schiltknecht Vietnam
Type: a.835.1.20
ManoAir100 readout unit +/- 20 kPa
Measuring range: +/- 20 kPa; Min., Max. and Mean values
Showagiken/SGK Vietnam
Model: AC 20A-8A LH
Rotary joint
Balluff Vietnam
BES00PY
BES 516-325-G-E5-C-S4 Inductive Sensors
Balluff Vietnam
BCS003L
BCS D50OO03-YPC25C-S49G Capacitive Sensors
Fluke Process Instrument Vietnam
RAYCMLTV3M
-20 to 500°C (-4 - 932°F) range, 3 m (10 ft.) cable, 18Mx1 metric threaded SS housing
Baumer electric Vietnam
Code: RR30.DAM0-IGPB.9VF
Description: Radar Sensor M30x1.5 ; No. 11168232
Balluff Vietnam
BTL1CJH
BTL7-E570-M0075-K-SR32 Magnetostrictive Sensors
Baumer Vietnam
10146080
FPDK 10P1101/KS35
FORNEY Vietnam
Model: 9101648
DP7000 Digital Prole Amplier
Baumer Vietnam
UEDK30P5103S14
Baumer Vietnam
USDK30D9003S14
BDC Vietnam
Item code: DCA30/4609KT
Inductive sensor with 2 m cable l
Fluke Process Instrument Vietnam
RAYCMLTK3
-20 to 500°C (-4 - 932°F) range, 3 m (10 ft.) cable, 0.75 - 16UNF 2A threaded SS housing Infrared Temperature Sensor with RS232, Type K Output
Fluke Process Instrument Vietnam
RAYCMLTJ3
-20 to 500°C (-4 - 932°F) range, 3 m (10 ft.) cable, 0.75 - 16UNF 2A threaded SS housing
Infrared Temperature Sensor with RS232, Type J Output
Vaisala Vietnam
Code: HMS112
RH and T transmitter, outdoor
Balluff Vietnam
BTL1LA1
BTL7-E570-M1100-K-K05 Magnetostrictive system
BTL09U2 (BTL5-E17-M1100-K-K05) is obsolete
Balluff Vietnam
BTL19KL
BTL5-S174-M0245-S-SA346-K30 Magnetostrictive Sensors
Unipulse Vietnam
Model: AM20AZ
Amplifier
Kinetrol Vietnam
Model: P3124-14402-100
ACTUATOR MODEL 12 AND P3 ON/OFF POSITIONER DA CCW ON SIGNAL RISE STANDARD SWITH FAIL FREE MODE 24VDC
NOTE: ASSEMBLY ALSO INCLUSIVE OF SOLENOID VALVE,
NAMUR ADAPTOR, DIN PLUG AND CABLING & CONNECTORS
Unipulse Vietnam
Model: F340A
Digital Indicator
ADFweb Vietnam
Code: HD67056-B2-250
Description : Converter
ADFweb Vietnam
Code: HD67056-B2-40
Description : Converter
ADFweb Vietnam
Code: HD67056-B2-80
Description : Converter
MTS Sensor Vietnam
Code: RHM0145MP021S1G8100
Temposonics® R-Series
MTS Sensor Vietnam
Code: 201542-2
Standard-ring magnet
Baumer electric Vietnam
Code: RR30.DAM0-IGPB.9VF
Description: Radar Sensor M30x1.5 ; No. 11168232
Balluff Vietnam
BTL1CJH
BTL7-E570-M0075-K-SR32 Magnetostrictive Sensors
MTS Sensor Vietnam
Code: RHM0145MP021S1G8100
Temposonics® R-Series
MTS Sensor Vietnam
Code: 201542-2
Standard-ring magnet
Valbia Vietnam
Order Code: 82DA0010
Description : Pneumatic actuator DA52 S82 DOUBLE ACTING, mod 52, F03-F05, CH11, temp -20°C +85°C
Valbia Vietnam
Order Code: 82DA0010
Description : Pneumatic actuator DA52 S82 DOUBLE ACTING, mod 52, F03-F05, CH11, temp -20°C +85°C
MTS Sensor Vietnam
Code: LDSBRPT02M05602A4L1
Temposonics LD Sensor
Sick Vietnam
Code: 1023668
Description: DME5000-112
JAQUET Vietnam
Part number: 385Z-05322
GreenLine F12A - Hall Effect Sensor M12x1 with integral Connector71.00
ADFweb Vietnam
Code: HD67056-B2-250
Description : Converter
ADFweb Vietnam
Code: HD67056-B2-40
Description : Converter
Ados-tech Vietnam
Model: NIBI-PRO 8Х (replace NIBI-PRO 5X)
Digital night vision binoculars
LRF and Illuminator for this device is detachable and not included
Naffco Vietnam
Model: NDR 106
Description : 2-1/2" Right Angle landing valve, flange type, out let female. Instantaneous to BS 336 coupling with plank Cap and chain, Brass Painted Red RAL3000 with Big Black painted C.l Hanle
Beisensors Vietnam

Part no: GHM510-0500-003
Model: GHM5_10//5G57//00500//G3A020//
INCREMENTAL ENCODERS,

Beisensors Vietnam

Part no: GHM510-0500-003
Model: GHM5_10//5G57//00500//G3A020//
INCREMENTAL ENCODERS,
Fluke Process Instrument Vietnam

RAYCI-3-A-10L
DC VOLTAGE OUTPUT (Linear 10 mV / °C, scaled 0-5V)
Temp Range: +/- 3 °C accuracy between 0 to 115° C (32 to 662°F)
3m (10') cable (in place of 1m cable) MAX 105 ° C (220 °F)
ASCO Vietnam
Model: EV8551G421.24/DC
ASCO Vietnam
Model: 8210P087E.12-24/DC
SOR Vietnam
Model: 12L-K614-N4-C2A-TT
Pressure Switch
TOYO Vietnam
Model: TDOU-33
Voltage Relay
TOYO Vietnam
Model: TDOG-31
Digital Over Current Relay
Erhardt + Leimer Vietnam
Code: 00331618
FM 3081N Pneumatic, mechanical edge sensor,
with small dead zone for high accuracy, as per drawing
valve body stainless steel
Erhardt + Leimer Vietnam
Code: 00331619
FM 3085N Pneumatic, mechanical edge sensor,
with increased dead zone for high accuracy, as per drawing
valve body stainless steel
Novotechnik Vietnam
Model: TH1-1000-102-411-102
Position Transducer
Baumer Vietnam
Model: IFRM 12P1701/S14L
Inductive proximity switch
Danfoss Vietnam
Part No.: 060G3203
Type: MBS 4010 Pressure Transmitter
Danfoss Vietnam
Part No.: 060G3041
Type: MBS33 Pressure Transmitter
Danfoss Vietnam
Part No.: 060G3036
Type: MBS33 Pressure Transmitter
MTS Sensor Vietnam
Model: EL01200MD341V01
Position Sensor; Stroke length: 1200mm
MTS Sensor Vietnam
Model: RHM1000MD601V01
Position Sensor; Stroke length: 1000mm
MTS Sensor Vietnam
Model: RHM1000MD561E101
Position Sensor; Stroke length: 1000mm
MTS Sensor Vietnam
Model: GHM1000MD601V0
Position Sensor; Stroke length: 1000mm
MTS Sensor Vietnam
Code: 201542-2
Magnet Ring
MTS Sensor Vietnam
Model: GHM1000MD601A0
Position Sensor; Stroke length: 1000mm
IET Labs Vietnam
Model: HARS-X-6-1
Decade ; Resistor 1 - 1 MΩ 0.01%
Jenco Instrument Vietnam
Model: 6309PDTF
pH&/DO controller
Jenco Instrument Vietnam
Model: Oxysens120 DO
Electrode with 5m cable
HMS/Anybus Vietnam
Model: AB7694-F
Anybus X-gateway CC-Link Slave-EtherCAT Slave
HMS/Anybus Vietnam
Model: AB7961-F
Anybus X-gateway CC-Link IE Field Network Slave EtherCAT Slave
Qúy khách có nhu cầu vui lòng liên hệ để được hỗ trợ tư vấn kỹ thuật và giá tốt nhất:
Đặng Văn Hương I Huong Mr. I
===========================
I cellphone I +84 984.359.334
I email I huong@ansgroup.asia
I skype I live:huong_237
Balluff Vietnam| Baumuller Vietnam | NSD Group Vietnam | | Keller MSR Vietnam | Yotta Control Vietnam | Crouzet Vietnam | MTS Sensor Vietnam | Endress Hauser (E+H) Vietnam | B&K Vibro Vietnam | BEI sensors Vietnam | Bernstein Vietnam | Agr Vietnam | Brooks Instrument Vietnam | Celduc Vietnam | Canneed Vietnam | Controller Sensor Vietnam | Metrix Vietnam | CSF Vietnam |Dold Vietnam | Deesys Vietnam | E Instruments Vietnam | EGE Elektronik Vietnam| Elco Vietnam | | Electro Sensors Vietnam | Ero Electronic Vietnam |Fine Suntronix Vietnam | FMS Vietnam | Greisinger Vietnam Electronic Vietnam | Hans-Schmidt Vietnam | HMS - Anybus - Netbiter Vietnam | Hohner Vietnam | Honsberg Vietnam | IMR Vietnam | Jenco Vietnam | Keller MSR Vietnam | Kuebler Vietnam | Mark-10 Vietnam | Moxa Vietnam| Matsui MFG Vietnam | Meister Vietnam | Minilec Vietnam | Microsens Vietnam | Microsonic Vietnam | Moog Vietnam | Noeding Vietnam | Novotechnic Vietnam | Pilz Vietnam | Raytek Vietnam | Rayteck Vietnam | Raytec Vietnam | ReeR Vietnam | RMF Vietnam | Rotronic Vietnam | Shinko technos Vietnam | Showa Giken Vietnam | Smart Measurement Vietnam | SPG Motor Vietnam | Status Vietnam | STS sensor Vietnam | Takuwa Vietnam | Tokyokeiki Vietnam |Tomoe Vietnam| Tecsis Vietnam | Tempsens Vietnam | Towa Seiden Vietnam | Unipulse Vietnam | Univer Vietnam | Valbia Vietnam | Watlow Vietnam | Wise control Vietnam | Pora Vietnam|