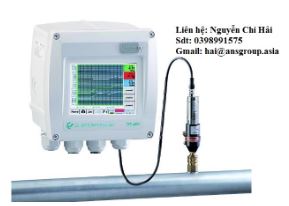 DS 400 Set - Stationary dew point measurement Cs Instruments, Stationary dew point measurement DS 400 Cs Instruments Viet Nam, Cs-Instruments Đại Lý Việt Nam
Xuất sứ: Germany
Nhà cung cấp: Anh Nghi Sơn – ANS VietNam
Hãng sản xuất: CS-Instrument
Liên hệ tư vấn

Mr Hải

hai@ansgroup.asia

01698.991.575

live:hai_502
DS 400 Set - Stationary dew point measurement Cs Instruments, Stationary dew point measurement DS 400 Cs Instruments Viet Nam, Cs-Instruments Đại Lý Việt Nam.
Cs Instruments Vietnam​. Nhà cung cấp Anh Nghi Sơn - ANS Viet Nam.
Cung cấp tất cả máy móc, thiết bị của Cs Instruments.
DS 400-Set for dew point measurement in compressed air systems
For stationary dew point monitoring of refrigeration or adsorption dryers. The touch screen graphic display enables an intuitive operation and shows the progress of the measured values. 2 alarm relays are available for monitoring of threshold values. Available either with a classic analogue output 4...20 mA or optionally with digital interfaces like Ethernet and RS 485 (Modbus protocol). As a stand-alone solution the measured data stored in the optional data logger can be read-out via USB stick and evaluated by means of the software CS Soft Basic.

Special Features of dew point measurement DS 400-Set
3.5" graphic display - easy operation with touch screen
System ready for plug-in: Everything completely wired
2 alarm contacts (230 VAC, 3 A) pre- and main alarm freely adjustable
An alarm delay can be set for each alarm relay
4...20 mA analogue output
Option: Ethernet and RS 485 interface (Modbus protocol)
Option: Webserver
Option: Integrated data logger
Recording of the dew point progression of up to 100 million measuring values
CS Soft Basic for evaluation in graphic and table form. Read-out of the data either via USB stick or via Ethernet

TECHNICAL DATA DS 400
Dimensions: 118 x 115 x 98 mm IP 54 (wall housing) 92 x 92 x 75 mm (panel mounting)
Inputs: 2 digital inputs for FA 510 resp. VA 500/520
Interface: USB interface
Power supply: 100...240 VAC, 50-60 Hz
Accuracy: please see FA 510
Alarm outputs: 2 relays, (pot. - free)
Options
Data logger: 100 million measuring values start/stop time, measuring rate freely adjustable
2 additional sensor inputs: for connection of pressure sensors, temperature sensors, clamp-on ammeters, third-party sensors with 4...20 mA 0 to 10 V, Pt 100, Pt 1000
TECHNICAL DATA FA 510
Measuring range: -80...20 °Ctd resp. -20...50 °Ctd
Accuracy: ± 1 °C at 50...-20 °Ctd ± 2 °C at -20...-50 °Ctd ± 3 °C at -50...-80 °Ctd
Pressure range: -1...50 bar, special version up to 350 bar
ORDER-NO
0601 0510
0601 0512
Z500 4002
Z500 4004
Z500 4005
Z500 4001
0554 8040
Z500 0003
Z500 0004
0699 3396
Liên hệ: Nguyễn Chí Hải
Sdt: 0398991575
Gmail: hai@ansgroup.asia