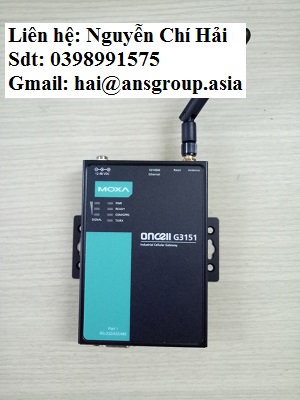 Oncell G3151 Moxa, Đại lý Moxa Việt Nam
Model: G3151
Xuất sứ: Taiwan
Hãng sản xuất: Moxa Vietnam
Liên hệ tư vấn
Oncell G3151 Moxa, Đại lý Moxa Việt Nam.
Moxa Vietnam​. Nhà cung cấp Anh Nghi Sơn - ANS Viet Nam.
Cung cấp tất cả máy móc, thiết bị của Moxa Vietnam​.
Features and Benefits
Universal quad-band GSM/GPRS 850/900/1800/1900 MHz

Desktop or DIN-rail installation

Connect Ethernet and serial devices

Centralized private IP management software with OnCell Central Manager

Choice of configuration methods, including web console, serial console, and Telnet
Introduction
The OnCell G3111/G3151/G3211/G3251 are cellular IP gateways that can conveniently and transparently connect up to two devices to a cellular network, allowing you to connect serial devices to your existing Ethernet with only basic configuration. To ensure zero data loss and on-demand cellular communication, OnCell devices are integrated with the GuaranLink function.
The G3111/G3151/G3211/G3251 cellular IP gateways are compact, and can be placed on a desk or mounted on a DIN rail. The products come with a 12 to 48 VDC power input and have 2 kV EFT/surge protection to allow the use of different types of field power sources. The serial ports are also protected by 15 kV ESD line protection to keep your system safe from unexpected electrical discharges.
Cellular Standards

Band Options

Quad-band GSM/GPRS 850 MHz / 900 MHz / 1800 MHz / 1900 MHz

GPRS Data Rates

GPRS Multi-Slot Class

GPRS Terminal Device Class

GPRS Coding Schemes

Cellular Antenna Connectors

No. of SIMs

SIM Control Voltage
Ethernet Interface
10/100BaseT(X) Ports (RJ45 connector)

Total Port Count
Ethernet Software Features
Management

ARP, DDNS, DHCP/BOOTP, DNS Relay, HTTP, SMTP, SNMPv1/v2c/v3, TCP/IP, Telnet, UDP, Web Console, Wireless Search Utility, Serial Console, Telnet Console, Remote SMS Control, OnCell Central Manager, GuaranLink

Routing

NAT, Port forwarding, WAN IP Filtering

Security

Time Management
Serial Interface
Serial Standards

OnCell G3211/G3111: RS-232
OnCell G3151/G3251: RS-232/422/485

Data Bits

Stop Bits

Parity

None, Even, Odd, Space, Mark

Flow Control

Baudrate
Serial Signals
RS-232

TxD, RxD, RTS, CTS, DTR, DSR, DCD, GND

RS-422

RS-485-2w

RS-485-4w
Operation Modes
Standards

Ethernet Modem mode
Real COM mode
RFC2217 mode
TCP Client mode
TCP Server mode
UDP mode
SMS Tunnel
Reverse Real COM
Power Parameters
Input Voltage

Power Connector

Input Current

0.9 A @ 12 VDC, 0.23 A @ 48 VDC
Physical Characteristics
Housing

IP Rating

Dimensions

77 x 111 x 26 mm (3.03 x 4.37 x 1.02 in)

Weight

OnCell G3151/G3111: 170 g (0.38 lb)
OnCell G3211/G3251: 190 g (0.42 lb)
Environmental Limits
Operating Temperature

-30 to 55°C (-22 to 131°F)

Storage Temperature (package included)

-40 to 75°C (-40 to 167°F)

Ambient Relative Humidity

5 to 95% (non-condensing)
Standards and Certifications
Safety

EMC

EMI

CISPR 32, FCC Part 15B Class A

EMS

IEC 61000-4-2 ESD: Contact: 8 kV; Air: 15 kV
IEC 61000-4-3 RS: 80 MHz to 1 GHz: 10 V/m
IEC 61000-4-4 EFT: Power: 4 kV; Signal: 2 kV
IEC 61000-4-5 Surge: Power: 1 kV; Signal: 1 kV
IEC 61000-4-6 CS: 10 V
IEC 61000-4-8 PFMF

Radio Frequency

FCC Part 22H, FCC Part 24E, EN 301 489-1, EN 301 489-7, EN 301 511, PTCRB (OnCell G3151 only)
MTBF
Time

OnCell G3111: 664,000 hrs
OnCell G3151: 661,000 hrs
OnCell G3211: 647,000 hrs
OnCell G3251: 642,000 hrs

Standards
Model
Liên hệ: Nguyễn Chí Hải
Sdt: 0398991575
Gmail: hai@ansgroup.asia