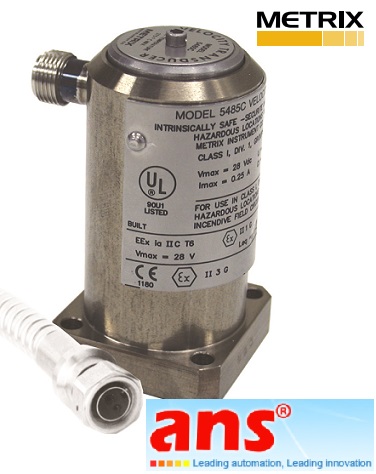 Velocity Sensor 5485C-004 Cảm biến rung 5485C Metrix
Model: 5485C-004, SV 5485C-004
Xuất sứ: USA
Nhà cung cấp: Metrix
Hãng sản xuất: Metrix Vietnam
Liên hệ tư vấn
Velocity Sensor 5485C, Cảm biến rung 5485C Metrix vibration USA, Đại lý phân phối Hãng Metrix tại Việt Nam, Đại lý Metrix vibration Vietnam, ANS Vietnam
The Metrix 5485C High-Temperature Velocity Sensor is suitable for use in temperatures up to 375°C. It is designed for gas turbines and other machinery with high surface temperatures where a velocity signal is desired. The Metrix 5485C is standard equipment on most GE heavy-duty industrial gas turbines including the Frame 3, Frame 5, Frame 6, Frame 7, and Frame 9.

The sensor's moving-coil design requires no external power as it self-generates a signal proportional to vibration velocity. It can be ordered with armored cable in lengths up to 100 feet (removable cable p/n 4850) or 60 feet (integral cable).

The sensor provides a 15 Hz to 2 kHz frequency response, and can be ordered with a variety of industry-standard outputs including 105, 145, 150, and 200 mV/in/sec. The 4-hole flat base mounting style is compatible with the standard mounting pattern on many industrial gas turbines; an adapter (p/n 8531) is also available for stud-mount rather than flat base mount installations.
List Code :
Metrix Vietnam
Velocity Sensor SV 5485C-004
375°C max., connector version
145 mV/in/s (5.71 mm/sec), 102 Ω coil resistance
Metrix Vietnam
Cable Assembly AC 4850-050
High Temperature ( 5485) Armored Cable
Kofloc Vietnam
Code: 8550MC-S1-1/4SWL-AIR-50SLM-1-1-20-CR
Mass flow controller
S1 means separated indicator
CR means neoprene o-ring option
MOXA Vietnam
Model: Nport 5150
1-port device server, 10/100M ethernet, RS-232/422/485 DB9 male, 12~48 VDC, 0~55°C
MOXA Vietnam
Model: V2403-C7-W-T
(CTO Models) x86 ready-to-run embedded computer with Intel Core i7 3517UE, 1 HDMI, 1 DVI-I, 2 LANs, 4 serial ports, 4 DIs, 4 DOs, 4 USB 2.0 ports, 1 uSIM socket, 1 Wi-Fi mini-PCIe socket, 1 3G/LTE mini-PCIe socket, 1 mSATA mini-PCIe socket, -40 to 70°C
MOXA Vietnam
Model: EDS-608
Compact managed Ethernet switch system with 2 slots for 4-port fast Ethernet interface modules, for a total of up to 8 ports, 0 to 60°C operating temperature
MOXA Vietnam
Model: IM-2SSC/2TX
Interface Module with 2 single mode 100BaseFX ports, SC connector, and 2 10/100BaseT(X) ports, RJ45 connector
MOXA Vietnam
Model: ICF-1150I-S-SC-T
Industrial RS-232/422/485 to Fiber Optic Converter, SC Single mode, with 2kV Serial Isolation, -40 to 85 ℃
MTS Sensor Vietnam
Code đúng: RD4SR5B0075MD70S1G1100
Temposonics® R-Series
MTS Sensor Vietnam
Code: XC
Extension Cables
Note: gồm D7 connector 560701, cable 530029
NSD Vietnam
Model: CSA-20x300-LS7-C2.0-A1
Cylinder
NSD Vietnam
Model: VS-Q62B-C
Converter
NSD Vietnam
Model: 3P-RBT-0102-5
Extension cable
Pilz Vietnam
Code: 777949
Description: PSWZ X1P 0,5V /24-240VACDC 2n/o 1n/c 2so
Safety relay
Roboteq Vietnam
MGS1600GY
Magnetic guide sensor
Showagiken/SGK Vietnam
Model: NCL 40A LH
Rotary Joint
Wolf Safety Vietnam
Code: WL-80
Worklite with 18 LEDs and 18 Ah battery May '18 onwards and Mains Charger 100-254V AC
Hans-schmidt Vietnam
Model: RTM-400
Belt Tension Meters
TowaSeiden Vietnam
Model: HL-400 L – 85mm
Rotary paddle type level switch AC200/220V
ITOH DENKI Vietnam
Model: PM500FE-20-1054-D-024-JD-VG
Power moller
- 50mm diameter steel pipe
- Nominal speed; 20m/min
- Tube length; 1,054mm
- Motor cable; 300mm
- D-shaped shaft on both sides
- w/ Mounting bracket
- w/ V-ribbed pulley
- 24V DC operated
ITOH DENKI Vietnam
Model: PM605FE-30-900-D-024-JD-VG
Power moller
60.5mm diameter steel pipe
- Nominal speed; 30m/min
- Tube length; 900mm
- Motor cable; 300mm
- D-shaped shaft on both sides
- w/ Mounting bracket
- w/ V-ribbed pulley
- 24V DC operated
Gems Sensor Vietnam
Part No.: 1200BGA4002A3UA
(2019) Gems Sensors Pressure Transmier
Model: 1200BGA4002A3UA
Range: 0-4 barG, Pressure
Port:1/4" NPT Ext.
Din Plug with mang Connector
Samwontech Vietnam
Model: ST170-A0/RS
Temperature controller
Kofloc Vietnam
Code: RK200-V-B-1/4-AIR-25L/MIN
Acrylic Resin Flow Meter
Model rK200 series
Kofloc Vietnam
Code: RK200-V-B-1/4-AIR-25L/MIN
Acrylic Resin Flow Meter
Model rK200 series
Kofloc Vietnam
Code: RK200-V-B-1/4-AIR-25L/MIN
Acrylic Resin Flow Meter
Model rK200 series
Balluff Vietnam
BGL0039
BGL 50C-003-S4
Photoelectric Sensors
Baumuller Reparaturwerk Vietnam
Item no: 532994E
Motor DSOG 100 L 15 included encoder and resolver, 12.1kW
Producer no.: 00354458
Baumuller Reparaturwerk Vietnam
item no: 531641
Motor DS 71 M 35, 5.1kW
Producer no.: 00372553
Celduc Vietnam
Code: SGT965360E
SSR 3x50A/24-600Vac/Ctrl 10-30Vd/E suffix 47,6
Relay
Celduc Vietnam
Code: SO868970
Single Phase Solid State Relays okpac range
95A/24-510Vac/VDR/Ctrl 20-265Vac/dc/Led/Regulated Input/IP20
Celduc Vietnam
Code: SO868970
Single Phase Solid State Relays okpac range
95A/24-510Vac/VDR/Ctrl 20-265Vac/dc/Led/Regulated Input/IP20
Celduc Vietnam
Code: SO868970
Single Phase Solid State Relays okpac range
95A/24-510Vac/VDR/Ctrl 20-265Vac/dc/Led/Regulated Input/IP20
E2S Vietnam
Model: GNExCP7PTSPLBS2A1BNExxxRSxxxR
Tool Reset Manual Signaling Box Call Point
E2S Vietnam
Model: GNExCP7PTSPLBS2A1YNExxxRSxxxR
Tool Reset Manual Signaling Box Call Point
E2S Vietnam
Model: GNExCP7PTSPLBS2A1BNExxxRSxxxR
Tool Reset Manual Signaling Box Call Point
E2S Vietnam
Model: MA112FAC230C1A1G
Marine Sounder
E2S Vietnam
Model: BExCS11005DPRDC024AS2P1R / R
Explosion Proof Alarm & Strobe
E2S Vietnam
Model: GNExCP6BPBSSLAS1A1RL24
Push Button Manual Call Point
KINETROL Vietnam
Model: 103-104UV02000M
ACTUATOR MODEL 10 ISO/DIN WITH VLS LIMIT SWITCH AND CONE MONITOR
KINETROL Vietnam
Model: DP3C01
P3 PRINTED CIRCUIT BOARD
Metrix Vietnam
ST5491E-022-0020-00
Seismic vibration transmitter, loop powered, with LCD indication (Vibration Sensor)
Full Scale Range - 0.8 ips (20.mm/SEC), pk
Mounting Stud - INTEGRAL 1/4" NPT STUD MOUNT, 303 SST
Hazard Rating - CSA, NRTL/C, CLASS 1, DIV 1, GRPS C & D, CLASS 2, DIV 1, GRPS E, F & G (available with flying leads only)
Connection - 4-20 mA Flying Leads
High Pass Filter - No Filter (2 Hz), Standard
Low Pass Filter - No Filter (1500 Hz), Standard
Metrix Vietnam
ST5491E-022-0020-00
Seismic vibration transmitter, loop powered, with LCD indication (Vibration Sensor)
Full Scale Range - 0.8 ips (20.mm/SEC), pk
Mounting Stud - INTEGRAL 1/4" NPT STUD MOUNT, 303 SST
Hazard Rating - CSA, NRTL/C, CLASS 1, DIV 1, GRPS C & D, CLASS 2, DIV 1, GRPS E, F & G (available with flying leads only)
Connection - 4-20 mA Flying Leads
High Pass Filter - No Filter (2 Hz), Standard
Low Pass Filter - No Filter (1500 Hz), Standard
MOXA Vietnam
Model: IMC-21GA-LX-SC
Industrial Gigabit Media Converter, Single-Mode 10km, SC, -10 to 60°C
MOXA Vietnam
Model: EDS-608
Compact managed Ethernet switch system with 2 slots for 4-port fast Ethernet interface modules, for a total of up to 8 ports, 0 to 60°C operating temperature
MOXA Vietnam
Model: EDS-616
Compact managed Ethernet switch system with 4 slots for 4-port fast Ethernet interface modules, for a total of up to 16 ports, 0 to 60°C operating temperature
MOXA Vietnam
Model: IMC-101-S-SC
Industrial Media Converter, single mode, SC, 40 km, 0 to 60°C
MOXA Vietnam
Model: CN2650I-8-2AC
8 ports RS-232/422/485 Terminal server with DB9 connector, Dual 100-200VAC input with adapter with 2 KV isolation
Aii Vietnam
Oxygen Sensor
Model: XLT-12-333
Aii Vietnam
Oxygen Sensor
Model: XLT-11-24-RTS
Qúy khách có nhu cầu vui lòng liên hệ để được hỗ trợ tư vấn kỹ thuật và giá tốt nhất:
Đặng Văn Hương I Huong Mr. I
I cellphone I +84 984.359.334
I email I huong@ansgroup.asia
I skype I live:huong_237
Balluff Vietnam| Baumuller Vietnam | NSD Group Vietnam | | Keller MSR Vietnam | Yotta Control Vietnam | Crouzet Vietnam | MTS Sensor Vietnam | B&K Vibro Vietnam | BEI sensors Vietnam | Bernstein Vietnam | Agr Vietnam | Brooks Instrument Vietnam | Celduc Vietnam | Canneed Vietnam | Controller Sensor Vietnam | Metrix Vietnam | CSF Vietnam |Dold Vietnam | Deesys Vietnam | E Instruments Vietnam | EGE Elektronik Vietnam| Elco Vietnam | | Electro Sensors Vietnam | Ero Electronic Vietnam |Fine Suntronix Vietnam | FMS Vietnam | Greisinger Vietnam Electronic Vietnam | Hans-Schmidt Vietnam | HMS - Anybus - Netbiter Vietnam | Hohner Vietnam | Honsberg Vietnam | IMR Vietnam | Jenco Vietnam | Keller MSR Vietnam | Kuebler Vietnam | Mark-10 Vietnam | Moxa Vietnam| Matsui MFG Vietnam | Meister Vietnam | Minilec Vietnam | Microsens Vietnam | Microsonic Vietnam | Moog Vietnam | Noeding Vietnam | Novotechnic Vietnam | Pilz Vietnam | Raytek Vietnam | Rayteck Vietnam | Raytec Vietnam | ReeR Vietnam | RMF Vietnam | Rotronic Vietnam | Shinko technos Vietnam | Showa Giken Vietnam | Smart Measurement Vietnam | SPG Motor Vietnam | Status Vietnam | STS sensor Vietnam | Takuwa Vietnam | Tokyokeiki Vietnam |Tomoe Vietnam| Tecsis Vietnam | Tempsens Vietnam | Towa Seiden Vietnam | Vaisala Vietnam | Univer Vietnam | Valbia Vietnam